These days, we all expect digital experiences to be seamless and personalized. Companies like Amazon, Netflix and Uber have set a new standard for smooth, 1-to-1 experiences.
And with a new bar set - everyone now expects that same experience from any type of company - B2C or B2B companies in SaaS, Business Services or Manufacturing. It doesn't really matter. The expectation in each industry is the same.
The good news is companies are taking notice and prioritizing.
In a 2022 Forrester study, companies cite their number one place to improve overall customer experience is ONLINE. Beginning with their website.
But how do you start? What are the best practices? How do successful companies run their website? And what are the forces behind these companies that drive its growth?
All of these are questions I wanted answered myself, so I researched HubSpot. A company to look up to and learn from. Read on to learn about HubSpot and some of the website tactics that help the company grow.
Unlimited view on marketing's role
Let's start with marketing's role within the company.
In many companies, the marketing team still owns the anonymous to prospect stage, sales owns the prospect to customer stage and the customer to promoter stage is owned by the service team.
And because marketing is usually responsible for the website, people think about their website as a tool to use only to attract prospects.
The marketing team attracts website visitors through SEO - or have them come from other channels to their website - and then try to convert them into leads.
And although this is absolutely critical and probably a really good starting point, HubSpot recognized that marketing can mean so much more, and the website can be leveraged as a tool across the ENTIRE flywheel.
That's why at HubSpot the marketing team has the opportunity to take ownership and help drive the entire customer experience.
And believe it or not, that has a huge effect on their website and performance.
Leveraging their website at all stages of the flywheel
If we take a closer look at HubSpots' website you notice that it affects all aspects of their business. It's their first impression, primary spokesperson, but also an around-the-clock inbound sales team member, customer service team member ánd hiring team member.
Making their website work for everyone, and not just for marketing.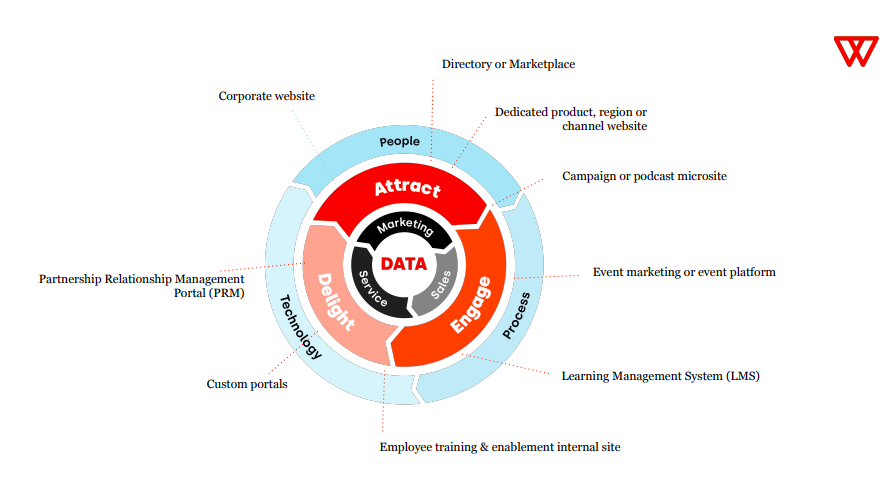 Let's dive into some examples.
HubSpot Inspire
HubSpot CMS Hub is used by thousands of companies to power their website. However, back in the day there was never an easy way to navigate directly to all the amazing websites built on CMS Hub for HubSpot's sales team and partners to leverage. This added unnecessary friction into the sales process if a prospect wanted to see examples of websites built on HubSpot.
So the marketing team at HubSpot decided to build HubSpot Inspire: an easy to navigate directory of all the websites built on CMS Hub. A place where individual HubSpot CMS users or HubSpot Partners can submit their showcase.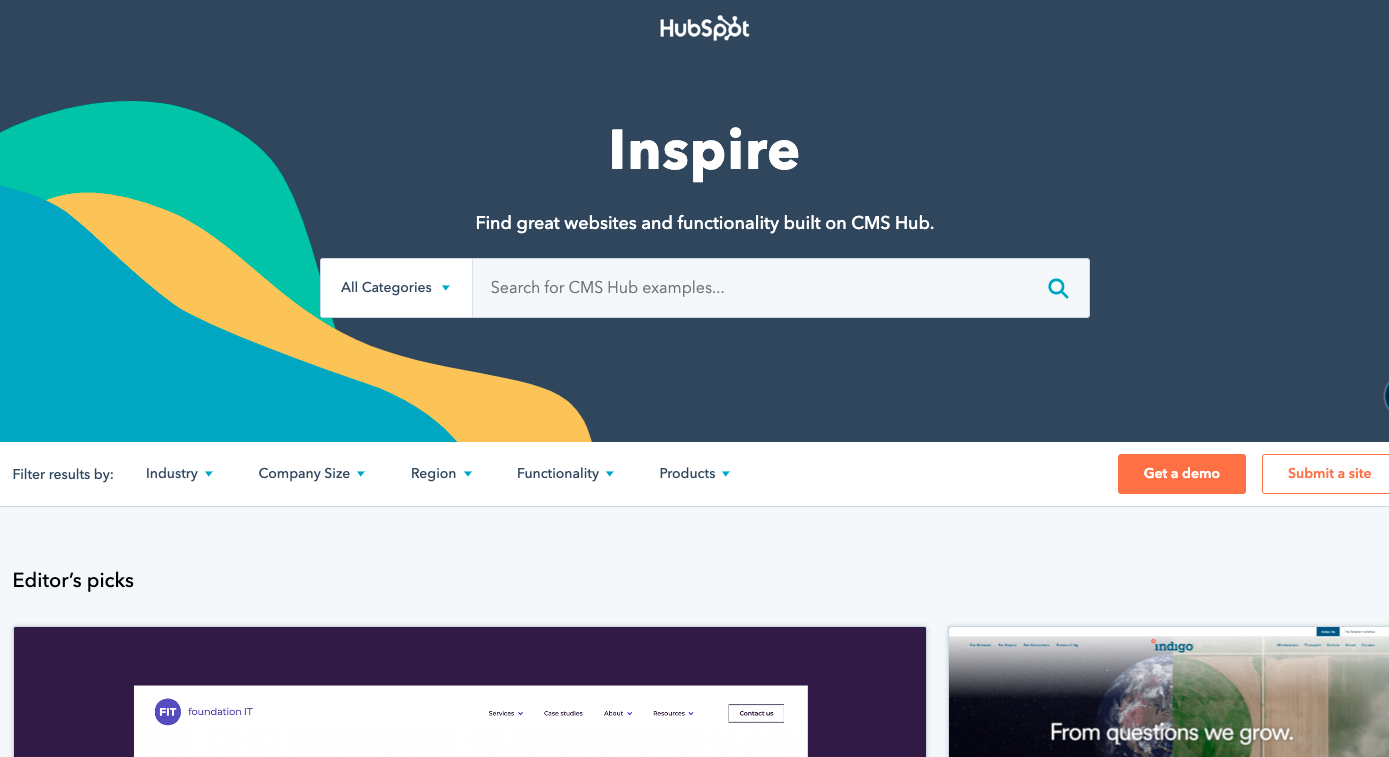 Since its launch Inspire has been used by HubSpot's sales team and partners to showcase examples of websites built on HubSpot to help their sales process.
And as HubSpot has content added by users daily, they have more pages that can be listed by Google.
Making it a powerful SEO acquisition tool for marketing in the attract phase ánd helping with sales enablement in the engagement phase.
HubSpot User Groups
HubSpot created a HubSpot User Group (HUG) program to help HubSpot Users connect with other HubSpot Users through events called HUGs.
These HUGs are hosted by experienced HubSpot Partners or top performing HubSpot customers and are here to help you sharpen your HubSpot prowess and talk through your challenges with others.
And to help people find these events the marketing team created another directory to leverage in the engagement phase. On this platform people can find all upcoming HubSpot User Group events and subscribe to them.
HubSpot Academy
If you know HubSpot, you probably know the HubSpot Academy.
Today it is the worldwide leader in free online training for inbound marketing, sales and customer service professionals. A place where you can learn everything you need to know about business topics, from quick, practical courses to certifications.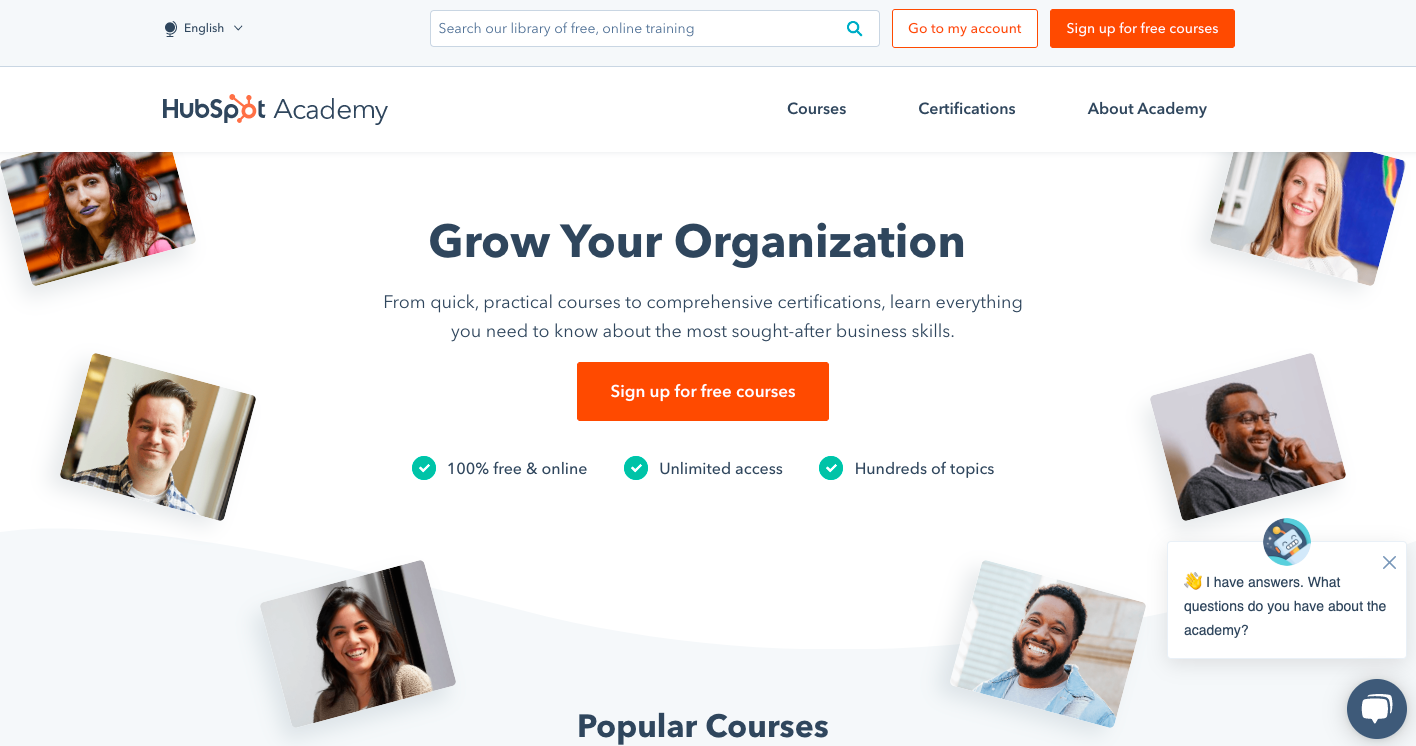 And it is HUGE for HubSpot.
They use a set of certifications to attract new leads, share methodology content to build out thought leadership and bring people into the HubSpot bubble.
HubSpot also uses the HubSpot Academy for onboarding customers, on-demand or in collaboration with the onboarding team, and training existing customers.
This way they continue to engage with their existing customers and help them market, sell and grow an inbound business.
HubSpot Intranet & Partner Portal
HubSpot created an entire Intranet for their sales team to help with enablement. They have all of their onboarding and training materials on there as they hire reps.
Best part: the marketing team owns it.
People can log in, find the latest news, hear about upcoming events and find slide decks and documents about their products and services. This way all the reps are always up to date about challenges the industry is facing and how HubSpot can help.
They even built out a portal for partners like Webs to get insights on upcoming HubSpot campaigns and new features to make sure they can align their marketing efforts and create the best experience for their customers.
HubSpot Careers
The career section on HubSpot's website is built as an inbound funnel for recruiting. It was a company-wide goal for HubSpot to hire people so the marketing team decided to roll up their sleeves and help build out a career section for the website.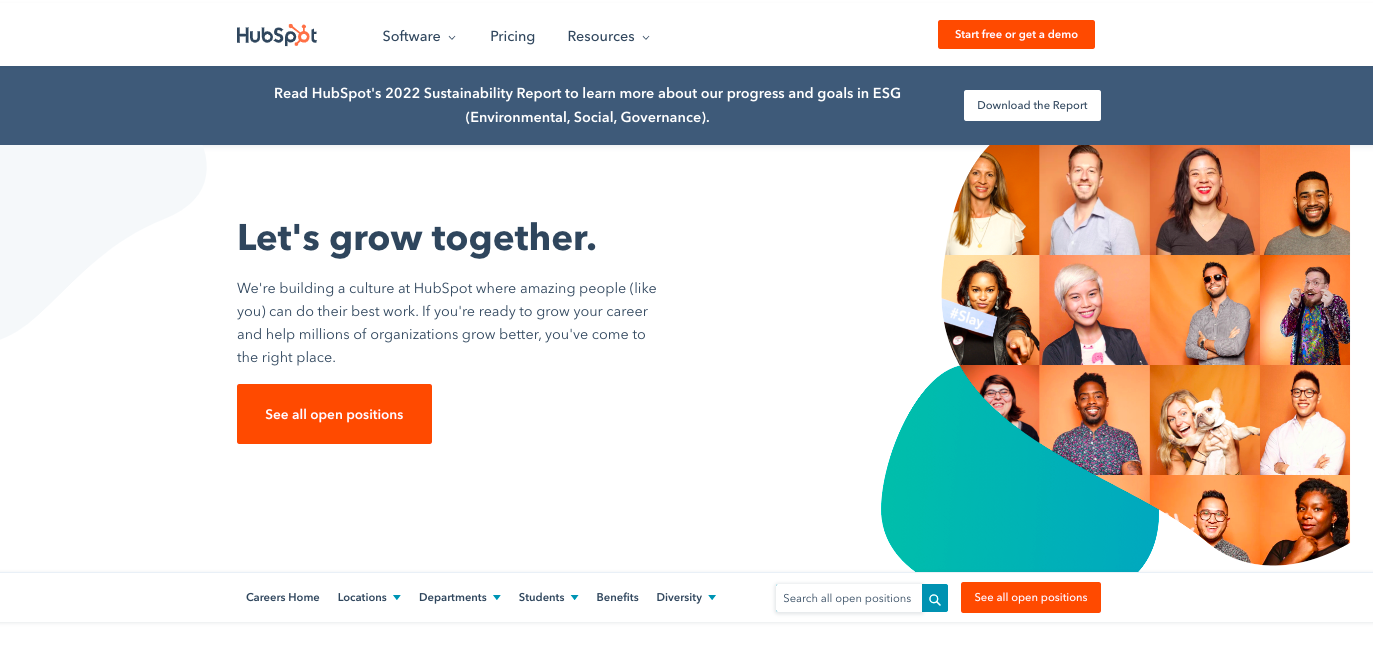 It's a website section where people find information about HubSpot, their company culture, annual Diversity Reports, the benefits of working at HubSpot and so much more. Helping the hiring team to attract and engage with the right people.
HubSpot Knowledge Base
A Knowledge Base is a library of help articles so customers can find the help they need when they need it. At every stage of the customer journey.
A perfect example of how HubSpot uses a part of their website to help the service team.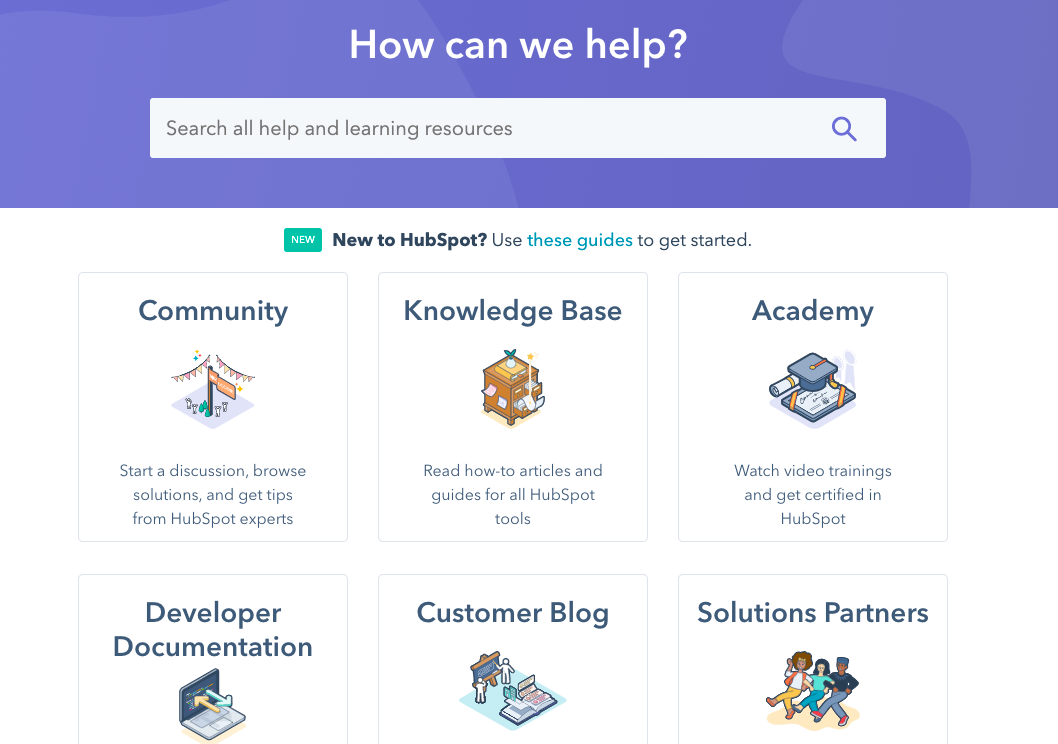 It reduces their number of support requests so their service team can spend less time answering common questions and more time helping customers succeed.
And with their knowledge base doubling as a handy customer service reference, the service team at HubSpot spends less time hunting down answers to questions they may not know.
Aligning their entire organization around delivering a remarkable customer experience
So, the secret is in the HubSpot Flywheel.
HubSpot does not only build products for their customers to help them attract, engage and delight their own customers, but they also apply the Flywheel model to their own business.
I know, HubSpot aligning their own organization around delivering a remarkable customer experience is not thát shocking ;)
But leveraging their website to do so might be new to some.
Put the customer at the centre of your People, Process and Technology (PPT)
It all starts with their customer-facing teams. Aligning them around their prospect and customers with only one goal: to create the right experience.
Want to follow HubSpot's example?
Start with mapping out the journey of your best customers, and map your people, process and technology to that journey. Then ask yourself:
Where are the frictions in the process?


Which frictions should be tackled first?


How can the marketing team help reduce those friction points?
By answering these questions you will see where the marketing team could start impacting all departments beyond marketing.
And that the website is much more than a tool to attract prospects.
At Webs, we use a framework for it: the Growth Framework. That Framework is based on the Cyclonic Buyer Journey and the Lifecycle Stages in HubSpot.
Download a copy of our Growth Framework here
Hopefully, this article inspired you to look at your own website as a tool to drive the entire customer experience and our Framework will help you identify a starting point. You can download a copy of our Framework via the link above.
Feel free to reach out or connect on LinkedIn to hear more about these topics.